Add a Low-Effort Income Stream to Your Retirement Plan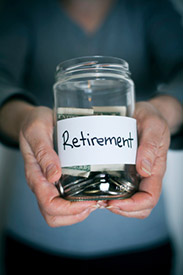 As a real estate broker, you help investors buy rental properties. It's a win-win arrangement: You get the commission, your investors get ongoing income to fund their retirement accounts — Whoa! Funding their retirement accounts? What if you could continue to get residual income from that sale or even get another income stream from a related business — income that could fund your retirement.
Building your nest egg
As a real estate professional, you know your income depends on the next big sale. And then, ideally, you move on to the next big sale. But there's a way to lessen that constant grind: property management. You're in the perfect position to offer those services and build your own retirement nest egg.
According to the 2014 National Association of Realtors (NAR) Profile of Real Estate Firms, residential property management is one of the top ranked secondary specialties for real estate firms. And more and more real estate agents are making property management their main focus. In fact, 6% of agents say that property management is their primary specialization, reports the NAR.
Property management can help diversify your real estate business and protect it from market fluctuations. It gives you the type of steady income that investment experts say is crucial to a sufficiently funded retirement plan. But there are downsides to taking on property management yourself.
Doing it yourself?
You have that "can do" attitude. You're totally up for the challenge of adding property management to your real estate business. Or are you? Here are a few things to think about:
You need to build your company's brand from the ground up. It takes time to build a good reputation.
You have to learn how to run your business profitably through trial and error.
You're flying solo. You don't have the knowledge and buying power (e.g., software, marketing) of having a group of investors working with you.
An easier way
For real estate agents or brokers, there's an easier way to add a new, dependable income stream from property management services: a Management One property management franchise. As a franchise owner, you have access to:
Proven, integrated business systems and software that are already set up for you. Your business will quickly generate income for you.
A staff of franchise experts and turnkey systems to give you the support you need to run your business smoothly and profitably — so your business doesn't take over your life.
A steady source of income, continual cash flow, and plenty of potential for expansion into related areas that bring you additional revenue.
Whether you're just starting your retirement fund or want to add a reliable source of income to your savings, consider enhancing your retirement with a Management One property management franchise.
When you diversify your business, you can stop running after the next big sale.
At
Management One Property Management
, brokers are doing just that. Call us at
949-721-6608
or
email us
to request our no-cost, no-obligation DVD and learn more about how a Management One franchise will help you get your life back.