The Cure for Property Management Phobia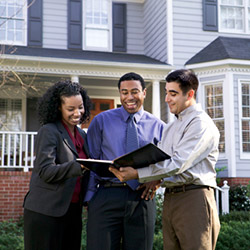 The continuing high demand for rental housing makes residential real estate a profitable investment choice. The downside of the rental property boom is that the more properties in your clients' investment portfolios, the more properties they have to manage. That may sound like a good problem to have, but for many potential investors, it's what keeps them out of this lucrative market.
According to an ORC International survey, the fear of becoming a landlord is the biggest obstacle for individual investors entering the single-family rental (SFR) market. Is that fear justified? Certainly.
Would-be investors have heard horror stories about "money pit" properties that needed frequent, costly repairs and midnight maintenance calls from residents. And tales of poor service from property management firms don't do anything to dispel those fears. Residential rental real estate investors don't want to be landlords. They just want to invest in rental properties and profit from those investments.
Fear not!
One increasingly popular solution for real estate investors is working with a property management company that's focused on serving owners of single-family and other smaller residential properties. But how can your clients find a management firm that meets their needs and expectations? Through you. As a real estate professional, you know the level of service your clients need and deserve from a property management company. The company needs to:
Specialize in managing small residential investment properties: single-family homes, condos, and small apartment buildings.
Have in-depth knowledge of the local market they're investing in.
Have fully automated systems that make it easy for owners to keep tabs on the condition and cash flow of their properties — and for their residents to apply, pay rent, request maintenance, and communicate with the property management firm.
Provide the most value and highest level of service as compared to competitors. In property management, as in many other areas, you get what you pay for. The best firms will have the lowest vacancy and evictions rates — not necessarily the lowest price.
Look no further
Management One Property Management is a company that you can feel confident about recommending to your clients. Not only will your clients get a top-notch property management company that can alleviate all their landlord fears, you benefit as well. Our referral program pays you a sum for every new resident you refer to us.
Management One was created to serve the property management needs of owners of single-family homes, condos, and small apartment buildings. For more than 30 years, we have developed proven processes and systems that are the envy of the industry. Through our company, your investor clients will have access to:
a pipeline of qualified residents that will help keep vacancies to a minimum;
our proprietary M1 software system, which seamlessly handles all aspects of property management, from marketing to recordkeeping to collecting rents; and
a network of prescreened contractors who provide quality maintenance work for a fair and reasonable price.
If the fear of becoming a hands-on landlord is keeping your clients from buying more investment properties, you can easily recommend Management One as a solution that will banish their apprehension.